Info
Selected works
Artists
We are very happy to announce the fair participation of the "gallery twenty-six"
in the Fair For Art Vienna 2023 from October 7th to October 15th 2023, which will take place at at the Aula der Wissenschaften.
This time, something truly extraordinary and unique is going to await you at our stand/booth:
Especially for the occasion, we are going to provide you with the rare, even unique opportunity to experience an utterly impressive selection of the captivating works of art by Alice Ella, Kryštof Strejc and Christian Bazant-Hegenmark, delivering what its first impression promises:
these works of art evade provocatively toying with any kind of cumbersome, perfunctory subversion – on the contrary, they are captivating due to their powerful presence, their vigorous, vivid energy beyond the pictorial space.
Alice Ella's latest works of art captivate due to and excel through their motivic immediacy, with a considerable amount of their appeal lying in their typical aesthetics, the Alice-Ella- signature style:
vigorous coloring, rich in contrast, highly stylized silhouettes, effusive postures, iconic attributes, the memorable stylistic idiom somewhere between art deco, pop art and instagram-aesthetics, the recurring two central motifs hat and mouth;
By dint of their interplay and synergy the depicted faces are turned into ciphers – enigmatic, utterly complex, highly charged symbols.
Kryštof Strejc creates a truly astonishing visual idiom: audacious pieces of art, radiating a distinct resolute energy and vivacity – witty and somehow outrageous, a bit predatory looking even, in strong, even brash, colors, that go their own surprising ways, making for a new kind of visual energy with an allegorical flavour. His complex chimeras (seemingly drawn from the artist's private mythologies) celebrate the connection between human and animal, whereby mutuality is apparent at all levels: blending dog and fish imagery with human traits and characteristics, so that fish have human lips, while dogs are dressed and wear shoes. Strejc's works do have a certain dark quality, which is revealed paradoxically by the way the bright shades, clear colors and pop culture references in theses large format paintings manage to convey subliminal smidgens of apocalyptic narratives, nestled in the timelessness of reality, of the here and now, undermining the fact, that the present we live in is not too distant from the narrative in question …
With pinpoint accuracy Christian Bazant-Hegemark works in an utterly fascinating manner between the analogous and the digital, touching on two major taboo subjects: error and trauma. What does exactly happen while it happens? What happens afterwards? What happens after the aftermath? How do you really deal constructively with distortion and failure?
Don't miss this unique opportunity!
Experience and enjoy the mesmerising momentum of amazement and pleasurable, delightful challenges by immersing yourself in Alice Ella's, Kryštof Strejc's and Christian Bazant-Hegenmark's, works of art and the stunning visual worlds which they create!
We're looking forward to your visit!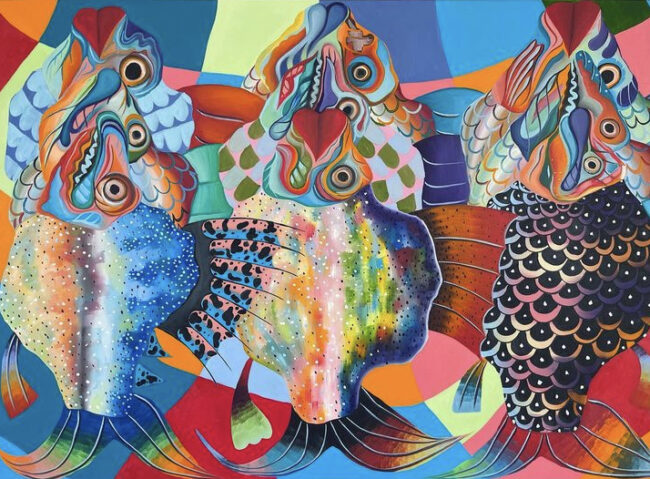 Fish 2023: Season I
Kryštof Strejc
oil on canvas
100 x 140 cm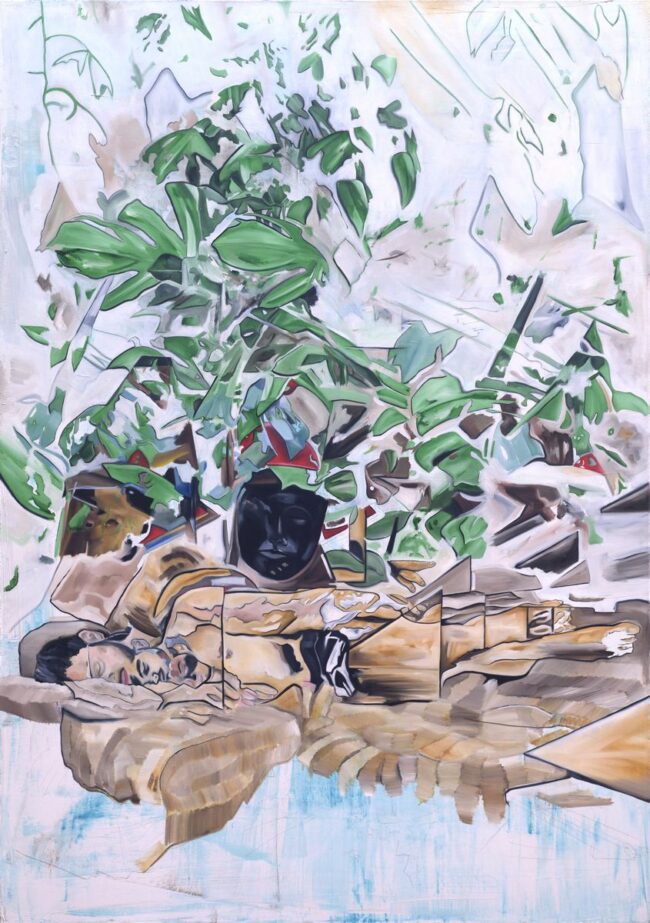 Vertical Sleep, 2020
Christian Bazant-Hegemark
oil on canvas
200 x 140 cm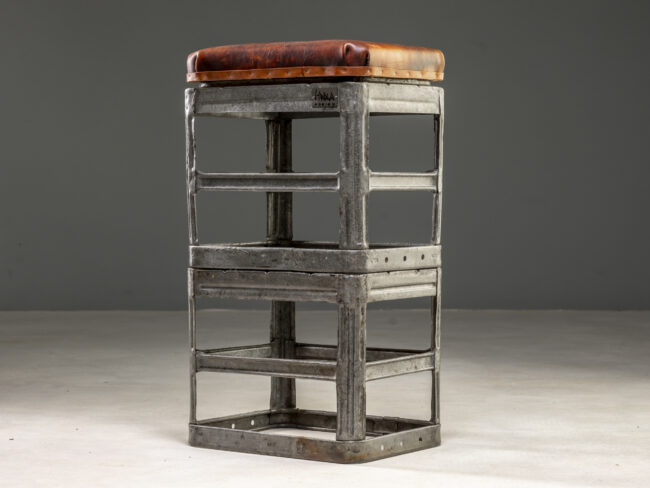 Bar Stool
HRDLA Design
zinc beverage crates | old gymnastics mats leather | coconut hair and felt
40cm x 30cm x 75cm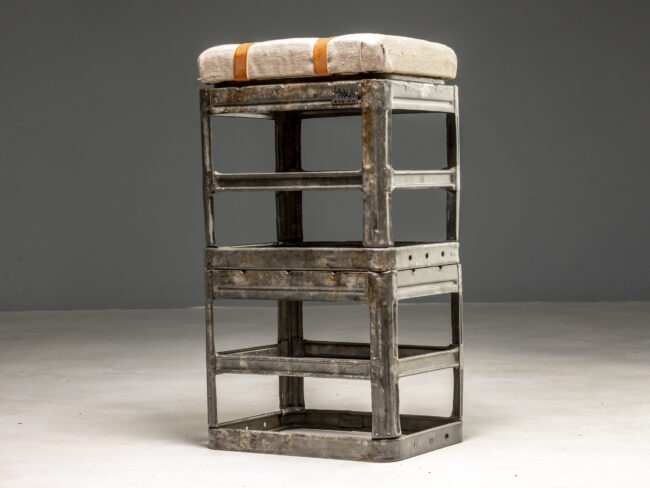 Bar Stool
HRDLA Design
zinc beverage crates | old solid linen cloth | coconut hair and felt
40cm x 30cm x 75cm