CV / Bio
Selected works
Exhibitions
Born in 1994 and having graduated from the Academy of Arts, Architecture and Design in Prague in 2019, Czech artist Kryštof Strejc focusses on painting, installation art and film making.
Having begun to paint animals during his studies in the studio headed by Jiři černický, Marek Meduna und Michal Novotný (but still favouring more dominant animals, such as beasts of prey, then), fish and dogs have gradually conquered the pictorial space, have become his main subjects.
Strejc creates a truly astonishing visual idiom: audacious pieces of art, radiating a distinct resolute energy and vivacity – witty and somehow outrageous, a bit predatory looking even, in strong, even brash, colors, that go their own surprising ways, making for a new kind of visual energy with an allegorical flavour. The beholders might feel convinced that there is an obvious allusion to something, perhaps a comment on something hidden in there at times, but it remains unclear, for all of these paintings seem to be drawn from the artist's private mythologies.
The artist himself states that his work is autobiographical, at least to the extend that he imagines himself in most of the characters, for the sake of authenticity.
Strejc's complex chimeras celebrate the connection between human and animal, whereby mutuality is apparent at all levels: blending dog and fish imagery with human traits and characteristics, so that fish have human lips, while dogs are dressed and wear shoes (which does not differ much from everyday life, which is why there is absolutely no need to invent anything, according to Kryštof Strejc.
Despite the absence of bleak tones, Strejc's works do have a certain dark quality, which is revealed paradoxically by the way the bright shades, cleat colors and pop culture references in theses large format paintings manage to convey subliminal smidgens of apocalyptic narratives, nestled in the timelessness of reality, of the here and now, undermining the fact, that the present we live in is not too distant from the narrative in question …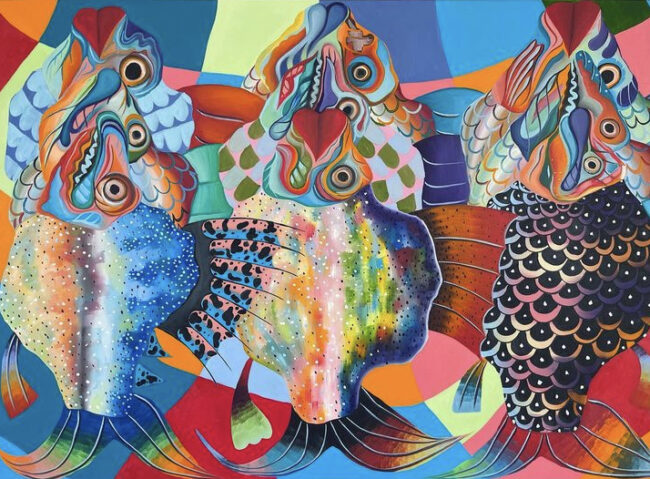 Fish 2023: Season I
Kryštof Strejc
oil on canvas
100 x 140 cm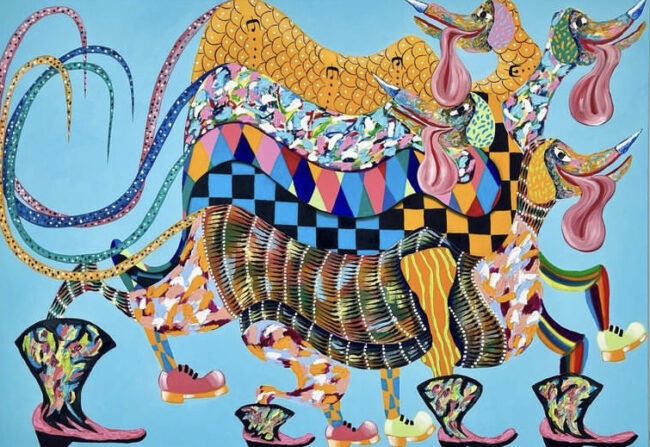 Dog Eat Dog
Kryštof Strejc
oil on canvas
140 x 200 cm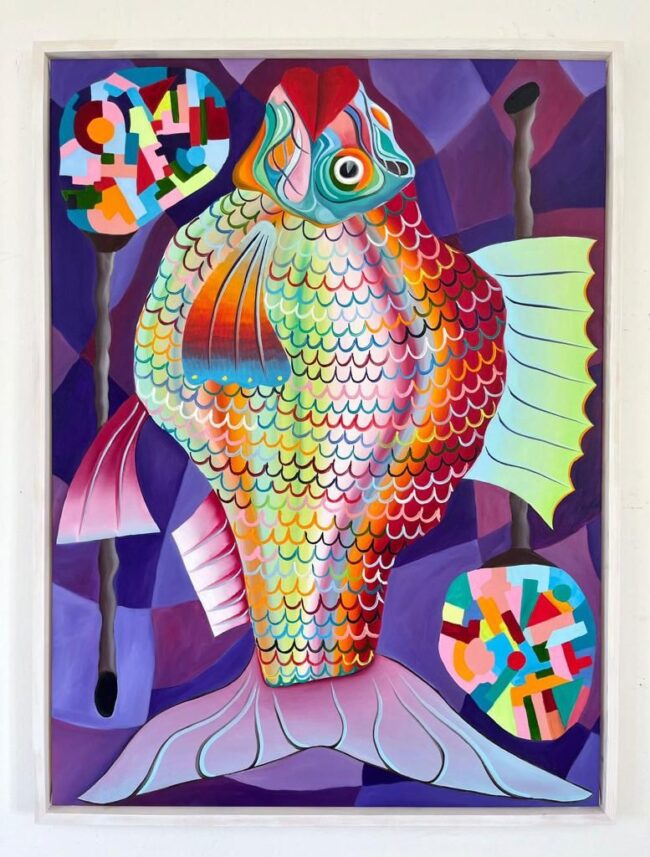 You´re so so_fish_ticated
Kryštof Strejc
Oil on canvas
115 x 85 cm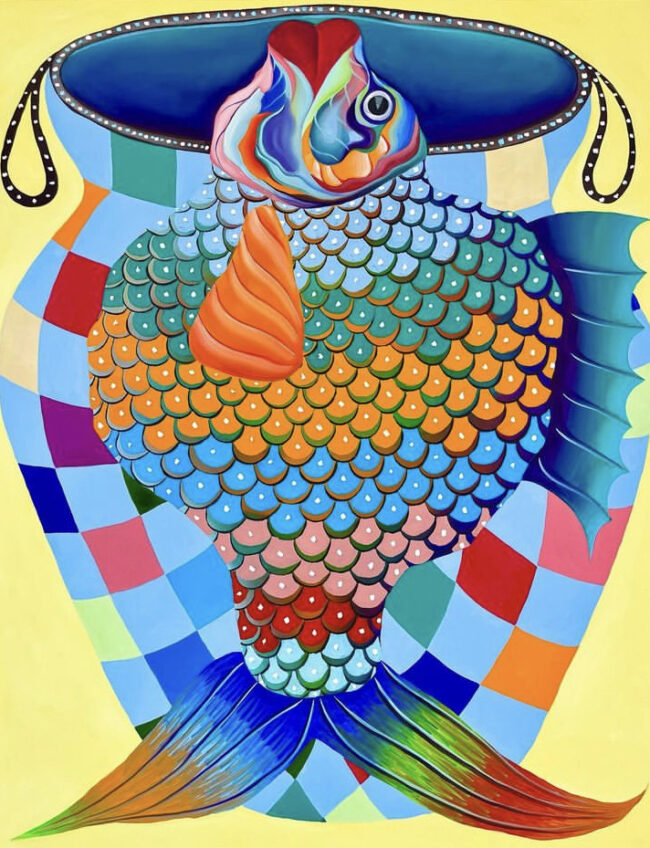 Sounds fishy to me
Kryštof Strejc
oil on canvas
130 x 100 cm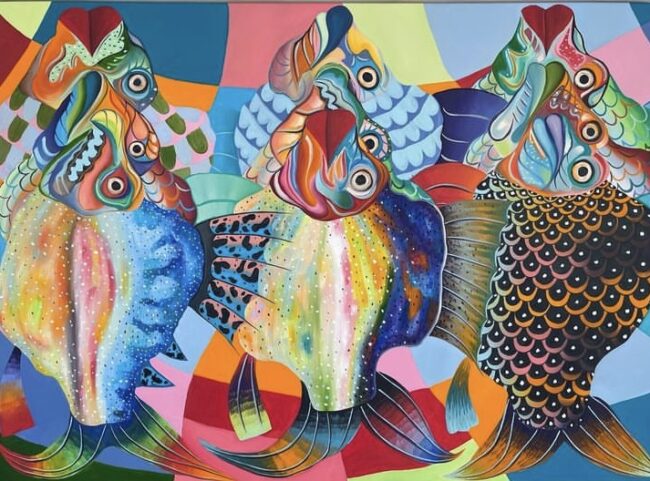 o_fish_ally in love with you
Kryštof Strejc
oil on canvas
100 x 140 cm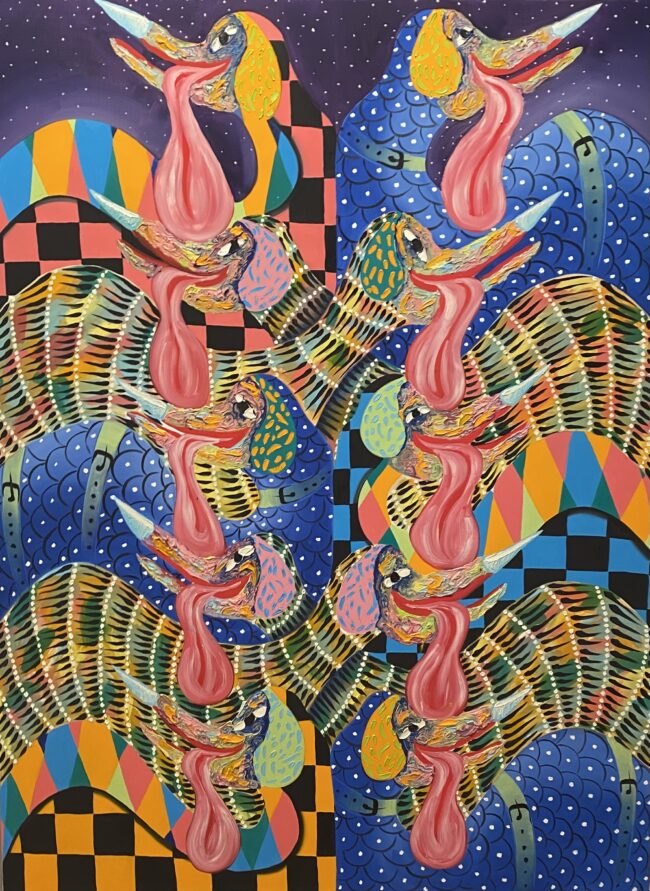 Night Dogs
Kryštof Strejc
oil on canvas
160 x 120 cm