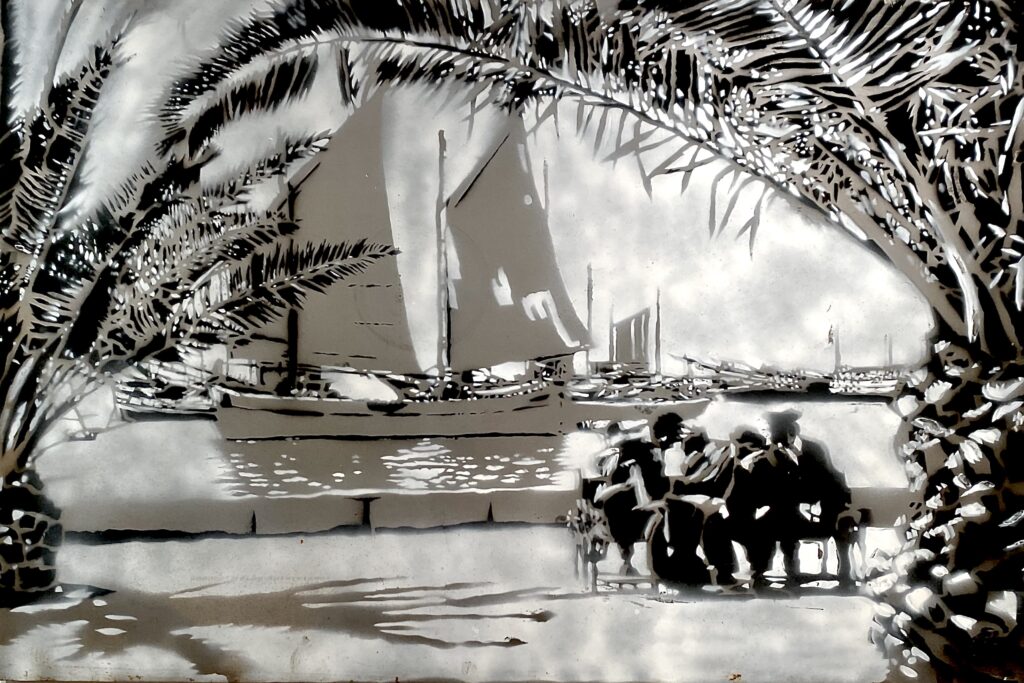 "Metal Spray Art" – the  title of this upcoming exhibition at the "gallery twenty-six" might arouse a multitude of spontaneous associations, be it something like the genre heavy metal, industrial or be it something more inclined towards graffiti and urbanity – actually it refers to the exceptional artistic universe of Wolfgang Uranitsch.
The term "metal spray art" has been coined by the artist himself, describing his art. "I consider it to be the ideal medium when it comes to realistic representation of pictorial motifs, lending them a certain depth" – as he himself stated.
The actual stylistic kinship of Uranitsch's unique way of combining screen printing and traditional painting – utilising acrylic spray varnish – on iron  to the graffiti genre of stencils is just as remarkable as the fact that Jean Baudrillard refers to urban space not only as "polygon of signs, media and codes", but also – specifically – as "semiurgy"and/or "metallurgy", which extends the conceptual connections and determines the semantic context of the artist's decision in favour of (the from an art-historical point of view rather infrequently found) iron as the image carrier far beyond any kind of mere fascination with aesthetic subtleties.
Capitalizing on the physical characteristics of metal, as has been the case for decades already, leveraging both the entire bandwidth of corrosion and light reflections is key to his spray art.
Uranitsch generates his broad spectrum of pictorial motifs from the ubiquitous flood of images that we are constantly exposed to (via newspapers, magazines, his own photographic works, vacation photos, snapshots): motor vehicles, the play of light and shadow in searing heat upon stretches of roads, rows of houses, urban landscapes, Miami Beach, … Time and time again it is the work of Andy Warhol that inspires him, stimulating an utterly intense kind of artistic dialogue in the creative field of tension between paying tribute to and working through the pop art idol's legacy on a symbolic level, thereby following a well established tradition within appropriation art.
The extraordinary intensity, vigour, artistic presence and enticing radiant energy of these works of art is the result of their technical and stylistic particularities – by dint of the interplay and synergy of  their motivic directness and sophisticated materiality, their beholders experience a captivating mixture of profundity and a certain visual lightness.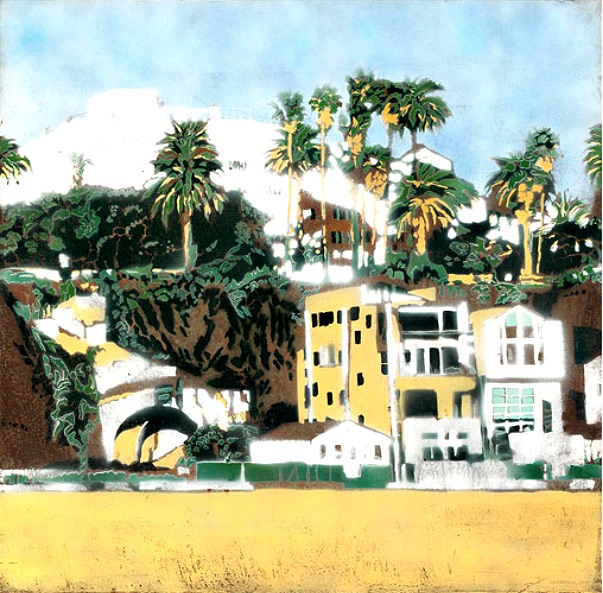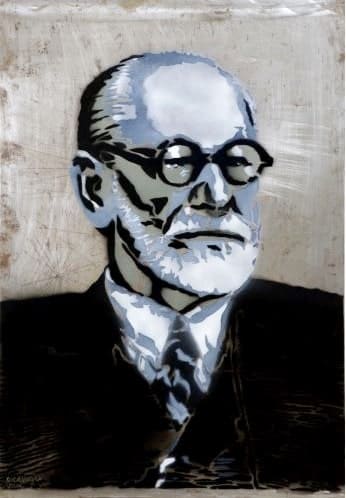 Born in Graz in 1954, Wolfgang Uranitsch, whose work has already been exhibited at the Museum of Applied Arts Vienna (MAK) as well as internationally (USA, GB), studied at the Faculty of Architecture at the Vienna University of Technology and the University of Applied Arts Vienna (class of Prof. Hollein), focusing on screen printing and lithography, expanding his  professional knowledge by means of several months of traveling abroad, including study visits (Italy, Spain, Portugal, USA) and boosting his artistic profile: in addition to working as a comic-strip artist, his graffiti art has clearly left its mark in public space. 
Harnessing his experiences  gained through the publication of comic strips and posters, alongside with the artistic preoccupation with media graphics, metal sculptures and painting, led to Uranitsch discovering his personal preference in terms of material and developing his approach stylistically, technically as well as in form and content, thus the conception and creation of his highly distinctive "metal spray art".